As part of its vision of giving its graduates the best starting point in the high-tech world, the LAPIDIM program maintains a close relationship with the industry. We consider cooperation with leading companies to be one of the program's cornerstones, allowing students to get acquainted with companies and get a taste of the "real world". This cooperation is advantageous to both students and companies.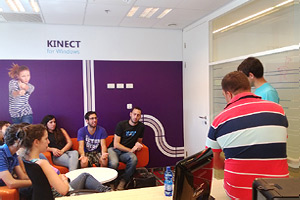 The LAPIDIM program is beneficial for all: the students, the supporting companies, the high-tech industry and society in general. On its one end we have the most talented students, those who seek the track, program and department that will best enable them to fulfil their dream; on the other end we have the companies, who enjoy a rare opportunity to contribute to the department and its best students by sharing their invaluable knowledge and longtime experience. Both sides benefit to the progress and development of a more advanced industry, one strong enough to change destinies and influence the future of mankind.
These different partners are all centered around one focal point; the LAPIDIM program is the link that ties between young promising students and leading high-tech companies. The students receive real world "hands on" experience in the best facilities, while the companies enjoy an exposure to the best and finest – students who not only got accepted to the leading CS department in Israel, but also highly excel in their studies and show great promise and potential for success on a worldwide scale. Once joining the program, the company brands itself as:
A company that promotes values of excellence
A company that encourages and stimulates leadership and entrepreneurship among students
A company that supports and enables the Technion to cultivate talented, creative and innovative IT people
Current supporting companies include worldwide industry leaders such as Microsoft, Intel, Google and Qualcomm. Any company interested in further information can contact us at noamor@cs.technion.ac.il.