The Computer Science Department at the Technion ranks with the best in the world. The reputation we have acquired over the years has granted us the privilege of teaching the very best students of computer science and computer engineering, providing them with the highest quality of scientific and technological education, and facilitating their quick and successful integration in the local and international high-tech industry, as well as in the academic world.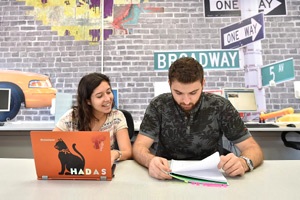 At the same time, it has come to our attention that, even within this elite group of students, there are some who possess exceptional skills and personal traits. Since its inauguration, the LAPIDIM program was designed to focus on and encourage those selected few who demonstrate an extraordinary capacity for leadership, entrepreneurship and interpersonal skills, as well as outstanding academic abilities. It is for those students, and for the benefit of the industry that will welcome them in the future, that the program was created.
The LAPIDIM program annually selects about five first-year students, and provides them with enhanced extra-curricular content in management and entrepreneurship, alongside their general study tracks in the Faculty.
In our minds we envisioned the first five LAPIDIM students, as well as those that followed, making incredible breakthroughs in both academic research and industry, being incorporated into prominent companies and leading the high-tech industry towards new, innovative and undiscovered destinations. This vision was shared by leading high-tech companies, with the understanding that contributing to the program sets the ground for the development and growth of their future leaders.
And indeed, our vision is beginning to turn into a reality. In 2008 the program was inaugurated with the first ten students. Since then, five students are selected every year, creating a "dream team". Over the years, and with every class that graduates, we have witnessed our vision beginning to come to life. Some of the excelling graduates continue to graduate studies here in the department or in other leading institutions in Israel and abroad. Others are taking their first steps in the technological world and quickly finding their way into key positions in the high-tech industry. Some are even working on creating their own startup companies. All of the LAPIDIM graduates, without exception, are keeping in touch with each other and with us. After all, it all started right here – in the small unique team we have established in the Computer Science Faculty at the Technion – the LAPIDIM program.